Mineral water and table water
Removal of unwanted substances from mineral water
Treatment of spring water and therapeutic water
Filling fresh spring water into the bottle: We offer manufacturers and system constructors across the globe the highest quality products for the sensitive area of mineral water production.
GEH® can be used in the exact same way for the removal of hazardous substances such as arsenic, vanadium or uranium from mineral water as it can be used to remove the same from spring water or therapeutic water. What's more, the remaining mineral composition of the water remains unchanged! And not only that, we have also encountered many technical challenges over the past two decades. Therefore, we can provide you with expedient advice and support - for optimum water quality.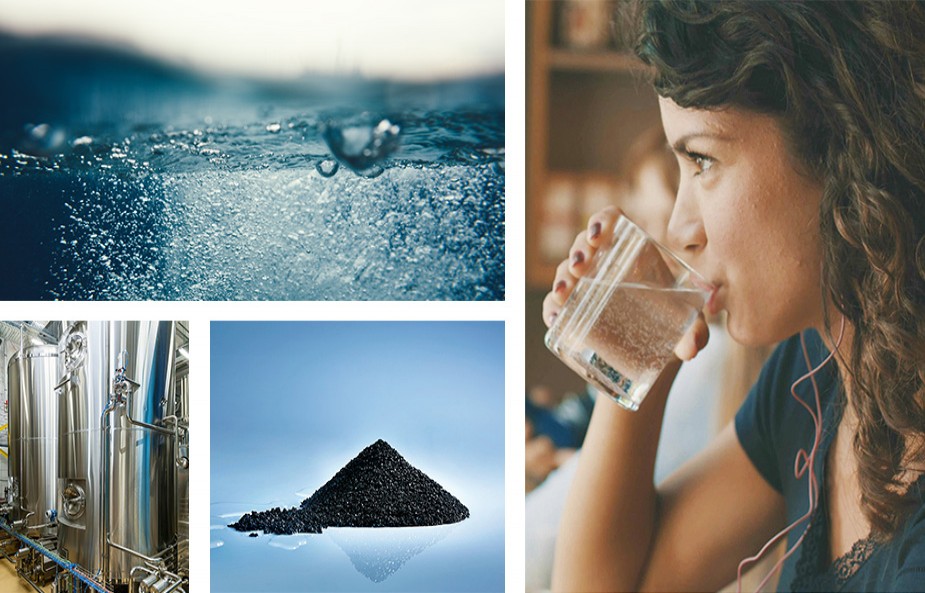 Good to know:
With GEH® you can achieve purity levels for mineral water, but also for spring and medicinal water, which are well below the legally required limits. So if you are looking for a uranium filter or want to remove arsenic in mineral water, we've got the solution for you!
GEH®-Adsorber for uranium, arsenic, vanadium and other metals
Heavy metals have a specific risk for human health. Especially if they are found in increased concentration in the mineral water we drink every day: uranium can accumulate in the body and damage organs there. Just like arsenic it is also considered carcinogenic. Legal limits for arsenic and uranium in mineral water are a minimum requirement to ensure a certain level of quality. However, this can hardly be the requirement for the treatment of mineral and table water. GEH® was developed to remove pollutants such as arsenic, vanadium and uranium to below the limit of determination. It not only binds these heavy metals effectively but also removes them permanently from the water cycle.
Granular ferric hydroxide – effective filter material for uranium and arsenic
You, for sure, have the highest demands on the quality of your mineral and table water. With GEH® we offer an adsorber material based on Granular ferric hydroxide – certified according to DIN EN 15029 and NSF/ANSI Standards 61. In order to ensure this quality in the long term, we implement an effective quality management system (QMS) in accordance with ISO 9001:2015 – regularly tested by the German technical inspection authority. This also includes the control of raw material quality up to the finished product in independent, certified laboratories. What is all of this about? We do this so that you can be sure that there is neither too much uranium nor arsenic in your mineral water. With our solution, you can ensure an effective uranium removal from mineral water!
Adsorber for Uranium, Arsenic and many more – GEH® for the removal of
GEH®, the better & more economical mineral water treatment
GEH® is a product that is manufactured based on high-purity raw materials – which is why it is ideally suited for mineral water application. Compared to other products, GEH® offers a significantly higher surface area and treatment capacity. This in turn allows for reduced material usage, lower maintenance requirements and ensures that you can treat your mineral water more economically and ecologically with GEH® than with other materials.
Additionally: GEH® eliminates the need to use and store hazardous chemicals. By using our product, you save both technical and human resources and can dispense with costly maintenance measures.
Increased uranium value in mineral water? We give individual advise to you
In addition to our patented and worldwide approved product, we also offer you our bundled expertise from over 20 years of water treatment. Whether you are looking for a filter material specifically against uranium, arsenic or have problems with other mineral water pollutants – we will provide you with comprehensive advice. With our international network we are also on site at your location. This means that you can benefit from our experience in the use of GEH® at any time. Just talk to us!
Properties
| | |
| --- | --- |
| Chemical composition | ß-FeOOH and Fe(OH)3 |
| Dry solid content | 58 % (± 10%) |
| Iron content, relative to dry solids | 600 g/kg (± 10 %) |
| Particle size range | 0.2 – 2.0 mm |
| Undersize fraction | < 10 % |
| Total oversize and undersize fraction | < 20 % |
| Bulk density, backwashed | 1150 kg/m3 (± 10 %) |
| Specific surface area (BET-method) | approx. 300 m2/g |
Recommended Operating Conditions
| | |
| --- | --- |
| Adsorber bed depth | 0.8 – 1.6 m |
| Freeboard height | 50 % of bed depth |
| Filtration velocity | ≤ 20 m/h |
| Empty bed contact time (EBCT) | ≥ 3 minutes |
| Permissible pressure drop | Max. 0.5 bar (7 psi) |
| Backwash velocity | 26 m/h (with water only) |
| Duration of backwashing | until outlet water is clear |
The following downloads are available for further information
Send us your inquiry, we will gladly answer it
* Mandatory field