Precipitation
Treatment of roof runoff from zinc and copper roofs
Removal of heavy metals from street runoff
Copper and zinc are heavy metals that can be released into the environment through rain water running off roof gutters.
Areas where vehicles are parked, as well as heavily used roads and streets, are also a source of further hazardous substances such as cadmium, lead or nickel due to exhaust gases or tyre wear. GEH® is the ideal adsorption material, in order to remove these specific metals and so protect our natural world.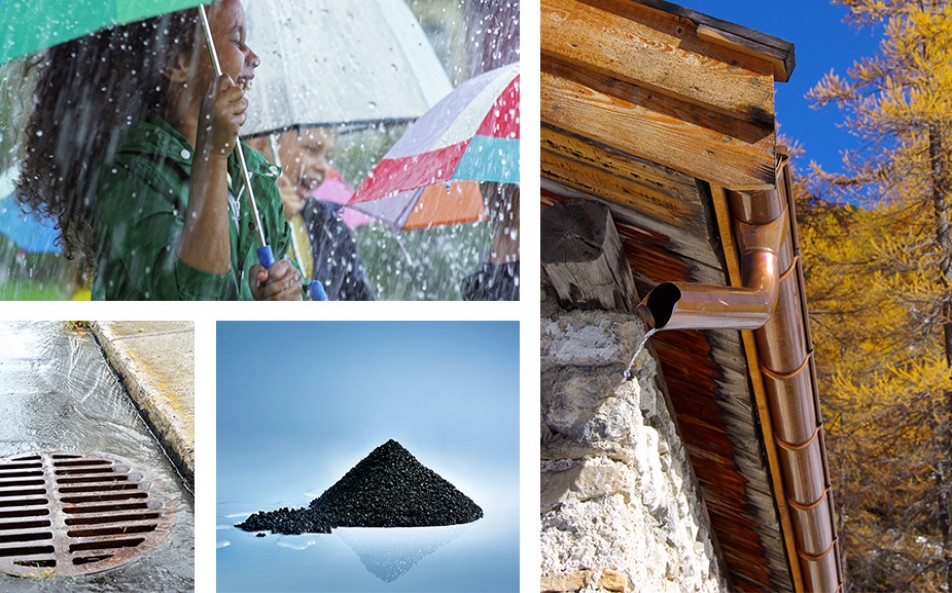 Good to know:
GEH® works specifically and effectively thanks to its patented production method. It doesn't generate dust and can therefore be easily filled into filter vessels. Our product also finds its way to you, directly and according to your needs – simply and cleanly in big bags or plastic barrels.
With GEH®: Remove copper, zinc, nickel and lead from any water
To free precipitation water from undesirable substances, a very specific filter material is required. A versatile adsorber which removes many different pollutants and heavy metals from water has proven its worth here: GEH® frees precipitation (rain) water reliably and without leaving residues of copper, zinc, nickel and lead. How can the sweeping effect of GEH® be explained?
Granular ferric hydroxide for the purification of precipitation water
GEH® consists of iron hydroxide granules. This is an adsorber material which specifically removes heavy metals and pollutants from water. How is this possible? During adsorption, the undesirable substances adhere to the surface of our product and can be removed from the water cycle easily and completely. GEH® has numerous other advantages in addition to its patented mode of action: It can be easily implemented in plants without great technical effort and does not require any major maintenance. In addition, it can be optimally combined with other cleaning processes, such as precipitation, and also works with fluctuating feed volumes. This makes GEH® a sustainable and particularly economical method of treating precipitation water.
GEH® for a clean water cycle without heavy metals
It is not easy to comply with the legal requirements that apply worldwide. GEH® makes it easy for you. The filter material meets all international requirements, such as the European DIN EN 15029 and NSF Standard 61, so you can comply with statutory environmental regulations everywhere and also meet your own economic expectations. This is because, compared to other methods and products of precipitation treatment, GEH® requires considerably less use. Do you have special requirements? Would you like to design your system on a free slope and therefore without electrical energy? No problem with GEH®. Get in touch and learn more about our Best Practices!
Individual treatment of precipitation water: We give advise!
One size fits all – this, unfortunately, does not exist in the field of water treatment. Every application has its own specific requirements. For this reason, the employees of GEH Wasserchemie are available to advise you. We support you in correctly dimensioning your system and recommending economical operating conditions. We do this worldwide and also at your site. Get in touch with us!
Properties
| | |
| --- | --- |
| Chemical composition | ß-FeOOH and Fe(OH)3 |
| Dry solid content | 58 % (± 10%) |
| Iron content, relative to dry solids | 600 g/kg (± 10 %) |
| Particle size range | 0.2 – 2.0 mm |
| Undersize fraction | < 10 % |
| Total oversize and undersize fraction | < 20 % |
| Bulk density, backwashed | 1150 kg/m3 (± 10 %) |
| Specific surface area (BET-method) | approx. 300 m2/g |
Recommended Operating Conditions
| | |
| --- | --- |
| Adsorber bed depth | 0.8 – 1.6 m |
| Freeboard height | 50 % of bed depth |
| Filtration velocity | ≤ 20 m/h |
| Empty bed contact time (EBCT) | ≥ 3 minutes |
| Permissible pressure drop | Max. 0,5 bar (7 psi) |
| Backwash velocity | 26 m/h (with water only) |
| Duration of backwashing | until outlet water is clear |
The following downloads are available for further information
Send us your inquiry, we will gladly answer it
* Mandatory field