Wastewater
Purification of industrial and municipal wastewater
Groundwater remediation
Preparation and treatment of process water
Treatment of (landfill) leachate
Protecting the groundwater: GEH® removes various heavy metals from wastewater – irrespective of whether it originates from the urban system or commercial locations.
GEH® has proven itself in those industrial applications where companies are required to remove heavy metals from occurring process water before being allowed to return it to the water cycle. GEH® can also be used for cleaning of landfill leachate and for remediation of pollutants. Municipalities can avail of GEH® to eliminate hazardous phosphate from wastewater and so avoid the eutrophication of their waters.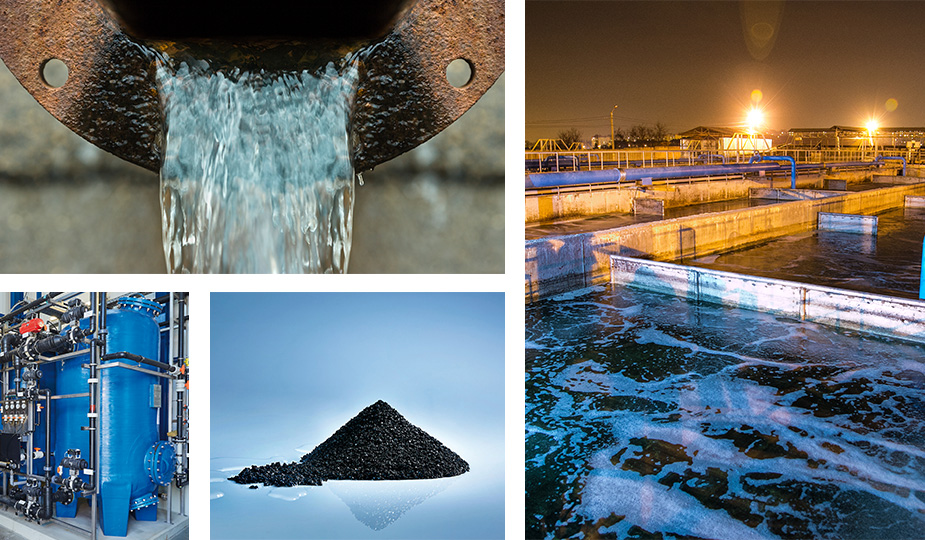 Good to know:
One of the reasons why we developed GEH® is to make our contribution to efficient water use and the purification of industrial water. This includes first and foremost the conservation of valuable resources. This is why you need to use and stock considerably less of our material than with competing products, e.g. for your landfill leachate treatment. With efficient energy management and the use of green electricity, we also pay attention to sustainability in the production of GEH®.
GEH®: high-performance adsorbents against phosphate, arsenic, uranium, lead and more
Granular ferric hydroxide has proven its worth where waste water must be freed from heavy metals and pollutants before it can be returned to the water cycle. This is exactly what our patented solution, the adsorber material GEH®, consists of. While heavy metals in water are toxic to humans above a certain limit, other substances, such as phosphate, cause water bodies to eutrophicate. In short: they damage the environment and its delicate balance of flora and fauna.
Innovative adsorbent – iron hydroxide in granulated form
Perhaps you already know classic precipitation processes with subsequent filtration. This is a way to free water from arsenic, uranium, phosphate or other undesirable substances. In many cases, however, this is not sufficient: To remove the pollutant completely from the waste water, this process is therefore often combined with adsorption. It is good when an innovative adsorbent is available that is easy to use and scalable to any size – such as GEH®. Use it for municipal wastewater treatment, for the remediation of contaminated groundwater and dealing with heavy metals in waste water in general. It is based on granular ferric hydroxide, which is capable of effectively binding heavy metals and pollutants. As a high-performance adsorbent it is of course also capable of removing pollutants directly from raw water or as a polishing filter after flocculation filtration to below the detection limit. GEH® naturally complies with DIN EN 15029 as well as the legal requirements worldwide. After all, anyone using our product should be able to be sure that they are actively protecting water.
Heavy metals in wastewater? GEH® for the removal of
GEH®: Special application in water remediation
A functioning soil with clean groundwater: that is the basis of life for humans, animals and plants. Today this may be clear. For a long time, however, we have had a careless approach to heavy metals and pollutants. Environmental protection as we know it today did not exist in its time. Unfortunately, old heavy metal contamination that seeped into the soil via wastewater and was thus able to collect in the groundwater still poses a threat today. A danger that can, however, be remedied. With GEH®, which filters arsenic, lead, uranium, nickel, copper and more from water. For the complex treatment process in contaminated areas, such as former refineries and industrial sites, GEH® can also be easily combined with other purification processes – for best results in groundwater remediation.
Reduce arsenic levels and remove phosphate? This is how it works!
Every adsorber plant is differently designed and dimensioned, depending on its specific application. Regardless of this, GEH Wasserchemie would like to offer you the best possible solution for the targeted treatment of waste water. To this end, we will be pleased to provide you with recommendations for the operation of your plant, the bed depth, filtration speed, empty bed contact time and backwashing speed. Take advantage of our personal consultation at your site so that you can use GEH® quickly for efficient wastewater treatment. Let's talk about it.
Properties
| | |
| --- | --- |
| Chemical composition | β-FeOOH and Fe(OH)3 |
| Dry solid content | 58 % (± 10 %) |
| Iron content, relative to dry solids | 600 g/kg (± 10 %) |
| Particle size range | 0.2 - 2.0 mm |
| Undersize fraction | < 10 % |
| Total oversize and undersize fraction | < 20 % |
| Bulk density, backwashed | 1150 kg/m3 (± 10 %) |
| Specific surface area (BET-method) | approx. 300 m2/g |
Recommended Operating Conditions
| | |
| --- | --- |
| Adsorber bed depth | 0.8 - 1.6 m |
| Freeboard height | 50 % of bed depth |
| Filtration velocity | ≤ 20 m/h |
| Empty bed contact time (EBCT) | ≥ 3 minutes |
| Permissible pressure drop | max. 0.5 bar (7 psi) |
| Backwash velocity | 26 m/h (with water only) |
| Duration of backwashing | until outlet water is clear |
For further information the following downloads are available
Send us your inquiry, we will gladly answer it
* Mandatory field